Receiving British Library documents
There may be times when the article or book chapter you have requested will be supplied to you by the British Library.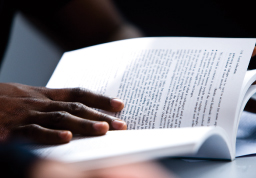 To receive your request you will first need to register with the British Library. This is an easy process and you will only need to do this once.
The British Library will send an email to you containing a link. From this link you can download your request using the username and password you have created. Once downloaded you can then print your requested document.
Tips to help you register
Use your university email address
You can choose to use your University user ID and password
British Library usernames must only contain letters and numbers
After registering and activating your registration, please wait 1 hour before trying to open your document
The British Library recommend not to use Chrome to open the documents
Find more information on how to register and use documents in the FAQs below:
How will I receive ILL online articles and chapters?
Articles, conference papers and individual book chapters will be supplied via The British Library's On Demand DRM service where possible, and emailed to your library account. (If The British Library cannot supply your request we will try to get it from other libraries, and it may be either emailed to you or supplied in print format.) The most important things to remember about The British Library (BL) articles are:
Once you receive the email you have 30 days to download the document. After that it will no longer be available from the link you have been sent.
You must make sure you have registered for a British Library On Demand account. You only need to do this once. It is free and you can do it before the document arrives. You can see how to do this below.
When you have registered with The British Library, wait until your document is emailed to you, then use your BL username and password to download and open any British Library documents you are sent.
Once you have downloaded the document you can view it for 3 years. Note: you can only send the document to print once.
Registering wth The British Library
When you register with The British Library, please remember the following:
You must use your university email address, and you can choose the username and password as your university one if you would like to. However, please note that British Library usernames must be made up of letters and numbers only.
After registering, wait about 1 hour before opening your document.
The British Library recommends that you do not open your documents using Chrome.
If you have not registered in advance, there will be a link on the email you receive with your article allowing you to do so.
Register for On Demand and and follow the instructions on screen. After registration you will be sent an email with a link to click to activate your registration. You will then be ready to claim any documents which arrive from The British Library. If you have a problem, please email us ill@sunderland.ac.uk
How do I open a document using Adobe LiveCycle DRM?
A link to the document is delivered by email; the link will take you to the download page. Note: you must be online.
If you are registered for BLDSS/On Demand and the system recognises your email address, you will be prompted to "Click to download your document".
If you are registered for BLDSS/On Demand and the system does not recognise your email address, you will be prompted to enter your Username or BLDSS/On Demand registered email address before you "Click to download your document".
If you are not registered for BLDSS/On Demand, you can register by clicking 'Register for On Demand' on the download page. Follow the instructions which include activating your account. Return to the download page and enter your Username or On Demand registered email address before you "Click to download your document". Note: It can take up to 1 hour for BL records to be updated with a new On Demand registration so please retry if your initial download attempt fails.
Once you "Click to download your document" you will be presented with a prompt. Note: some mobile devices may require you to go to the 'downloads' notification before you can access this prompt.
Enter your Username and Password and you will gain access to the document.
You will need to enter these details each time you access the document, unless you check the 'Remember me on this computer' box. Note: Please DO NOT check this box if you are accessing the document on a shared computer.
How many times can I print the article/chapter?
You may print only one paper copy, from which you may not make any further copies. You may not make further electronic copies or convert the file into any other format. You may not cut and paste or otherwise alter the text
Can I share the article/chapter with other people?
Once the document has been downloaded, only that BLDSS/On Demand user may access it. However, prior to that, download links may be forwarded to another email address if the document is not already associated with a BLDSS/On Demand user.
Why won't my document download or open? Why am I seeing blank pages?
Are you online? Online access to the Internet is needed every time you open the document.
Are you using Adobe Reader as your PDF viewer? If your browser's default PDF viewer is not Adobe Reader, it will need disabling before documents can be read. Google Chrome's viewer is disabled by typing chrome://plugins in the address bar, then scrolling down and clicking 'disable' next to 'Chrome PDF viewer'. Chrome users may avoid this step by using a different browser such as IE or Firefox.
Are you using a compatible version of Adobe Reader? Adobe Reader 10 or above is required on any device you use to view documents, including mobile devices.
Has a previous user locked you out by clicking 'Remember me on this computer'? If so, go to 'Edit'> 'Preferences'>'Security' and click and confirm the 'Clear remembered account information' button, then retry the download link.
Has the download link expired? The download link will remain live for 30 days from the date of the original email. If the download link has expired, the item will need reordering.
I can't get Adobe Reader. What other options are there?
Unfortunately, LCDRM works only with Adobe Reader 10 or above, and documents will not open with any other PDF viewer.
For how long can I access the document?
The article is not automatically saved and you must click 'File>Save As' and name it to a drive or memory stick to save it. If you 'save' the document, you should have access to it for three years from the date of supply. If files are not saved, access from the download link will cease after 30 days and the item will need reordering. Upon expiry, you will be locked out of the article permanently.
What do I do if I have forgotten my BLDSS/On Demand username or password, or if my password changes?
If you have forgotten your BLDSS/On Demand Username or Password, there are links to have reminders sent from the BLDSS/On Demand home page. If your Password changes, you may continue to access saved documents using your latest Password. However, you may need to clear the remembered account information in Adobe Reader.
These FAQs are also available as a PDF below.
Frequently asked questions about loaning documents from the British Library.