Our buildings
Our buildings are open to current University of Sunderland students, members of staff, and guests with space to study and browse our collections. We have a range of different learning space for you to choose from, where you can use your own devices or one of our computers.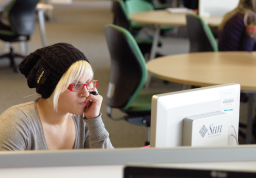 Our main floor study areas and our PC clusters can be used on a first-come, first-served basis. Our individual study rooms must be booked in advance.
We ask that during your visit that you follow any guidance displayed throughout the building. You will need to use your campus card or guest access card to use the library gates. Sanitiser and cleaning materials are available in our buildings for your use.
You can view the opening hours for both our Sunderland library buildings online. The University provides information on travel and parking.

The Murray Library (City Campus)
Collections include: Education, Health, Medicine, Natural Sciences, Nursing, Pharmacy, Psychology and Counselling, Social Sciences, Sport
Address: The Murray Library, Chester Road, Sunderland, SR1 3SD
Interactive map: Click here.

St. Peter's Library (Sir Tom Cowie Campus)
Collections include: Art, Business, Computing, Education, Engineering, History, Languages, Law, Literature, Media, Social Sciences, Tourism
Address: St. Peter's Library, The Prospect Building, The Sir Tom Cowie Campus at St. Peter's, Sunderland, SR6 0DD
Interactive map: Click here.
Page reviewed: September 2021